If you're looking for a light bite that can be served hot or cold, on picnics or at home, then look no further. Our spinach, ham and cheese roulé also happens to be cheap and easy to make. What's not to love?
Don't worry if you haven't got spinach, or don't like it, you can replace this vegetable with pretty much any other leafy green veg, such as chard, kale, spring greens or pak choi. You can also use other types of cheese, as long as they melt well, for example comté, gruyère or emmental. I haven't tried it with blue cheese or goats' cheese yet but I'm sure it would work well too.
Spinach, ham & cheese roulé
Prep Time:

10 minutes

Cook time:

20 minutes

Servings:

6

Rating:
Ingredients:
Instructions:
Summary:
Blanch the spinach for 4 mn
Roll out your puff pastry and cover it with the ham, the spinach and the grated cheese
Roll everything into a roulé
Brush a beaten egg onto the roulé (optional)
Cook in the oven for 20 minutes at 210ºC
Put the oven on at full whack. Put your saucepan onto a high heat. Switch your kettle on. Get all your ingredients ready.
Wash your spinach and put it in the saucepan. Pour the boiling water into the saucepan. Cook the spinach on a medium heat for 4 mn, then drain in a colander.
While the spinach is cooking, roll out your puff pastry; you can make your own or buy it ready-made, I always buy it to save time.
Cover the puff pastry with the slices of ham, the spinach and finally the grated cheese. Try to spread everything as evenly as possible but leave about 2cm around the edge.
Roll everything into a roulé.
As it's a bit wide I cut mine in half so it can easily go onto my baking sheet. In that case you will have to close up the part you just cut. To do that just push the stuffing back in and pinch the edge.
This next step is optional but it only takes an extra two minutes, and it makes the roulé a lot more appetising as it will be crustier and more golden. So beat an egg in a small bowl and then brush the top of the roulé with some of it.
Cook in the oven for 20 minutes at 210ºC.
Additional tip:
You can use baking paper between your roulé and your baking sheet to make your washing-up even easier later.
 Don't forget, if you like this recipe please share it! We'd love it if you came back and shared your comments, thoughts, and rating on this dish once you've made it. Bon appétit!
I'm linking this recipe up to A Mummy Too's Recipe of the Week, click on the image below to see some other yummy recipes: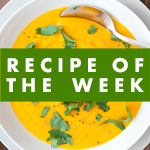 Print Friendly

Print Friendly