If you have never had pulled pork before or never made it in the slow cooker then you need to read this recipe! I only discovered pulled pork fairly recently and I couldn't believe how incredible it was, I never got round to making it though as it seemed a bit complicated and time-consuming. Then one day I found out that it can be made in the slow cooker and I've made it so many times since then as it's so quick, easy and delicious.
I'm linking this delicious recipe up to Tasty Tuesdays and Recipe of the Week, do click on the links below for other yummy recipes: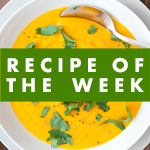 Pulled pork in slow cooker
Prep Time:

10 minutes

Cook time:

09h 00min

Servings:

8

Rating:
Ingredients:
Instructions:
Summary:
Spread the thinly sliced onions and crushed garlic cloves across the bottom of the slow cooker
Pour in the chicken stock
Mix the spices and rub into the pork
Cook for 9 hours on low
Pull the pork apart with two forks
Mix the shredded pork with the onions and some cooking juice
Get your slow cooker ready. Switch the kettle on. Get all your ingredients ready.
Thinly slice the two onions and spread them around the bottom of the slow cooker. Crush the cloves of garlic and add them to the onions.
Pour 200ml of boiled water from the kettle onto a chicken stock cube in a measuring jug, mix and then pour the stock into the slow cooker.
Mix all the spices (sugar, salt, pepper, cumin, cinnamon & chili) in a bowl.
Put the pork on a chopping board keeping the bone in and the skin on if any. Rub all the spice mix around the pork. Put the pork in the slow cooker, on top of everything else.
Cook on low for about 9 hours.
Set the slow cooker to "warm" or keep on low if your slow cooker doesn't have this function. Take the meat out of the slow cooker and put it on a chopping board. Pour all the cooking juice and onions into a bowl. Remove the bone if any and throw it out. Remove most of the fat still on the meat and the rind as well (if you like crackling you can get this by putting the fat in an ovenproof dish, add a bit of salt, and put it under the grill for about 10-15 minutes on full). Now pull the meat apart with two forks and put it back in the slow cooker. With a tablespoon put all the onions back in with enough cooking juice so the meat is not too dry.
Don't forget, if you like this recipe please share it! We'd love it if you came back and shared your comments, thoughts, and rating on this dish once you've cooked it. Bon appétit!

Print Friendly

Print Friendly