There are so many variations possible when making a potato salad. But for me the base ingredients have to be potatoes, tomatoes, cooked onions and bacon. Then the sky's the limit! You can add mushrooms (cooked or not), peppers (cooked or not), celery, capers, avocado, different kinds of herbs, or whatever else you've got to hand or fancy.
I used my home-made mayonnaise and home-made vinaigrette for this dish. Videos of these recipes are available for subscribers to this blog – just enter your details in the left hand column or in the box at the bottom of this blog post to register and get these recipes and much more.
One of the beauties about this potato salad recipe is that it's quick, easy and cheap so a winner for most people. Whilst it isn't the healthiest, due to the bacon, it does contain a couple of veggies and you can always add more in or remove the bacon to make it healthier.
Potato salad with a twist
Prep Time:

10 minutes

Cook time:

8 minutes

Servings:

6

Rating:
Ingredients:
Instructions:
Summary:
Cut your potatoes into quarters and either steam them in a pressure cooker for 8 mn or boil them for 15 mn
Slice your onions and bacon and brown them with the olive oil in a frying pan for 5 mn on a high heat
Slice your mushrooms, add them to the frying pan and brown everything for 5 mn more
Cut the potatoes into smaller 2-3cm cubes, cut the tomatoes and put them into a big salad bowl
Add the browned ingredients from the frying pan to the salad bowl
Add the sliced celery stick and tarragon leaves
Add the mayo and vinaigrette and stir well
Put your frying pan onto a medium heat. Get your pressure cooker or saucepan ready on a high heat. Get all your ingredients ready.
Wash and scrub your potatoes - I keep the skin on to maintain all the nutrients, but you can peel them if you prefer. Cut them into quarters and either steam them in a pressure cooker for 8 minutes or boil them for 15 minutes in a saucepan.
While your potatoes are cooking slice your onions and your bacon. Put them in the frying pan with the olive oil and brown them for 5 minutes on a high heat stirring only once or twice.
Wash and slice your mushrooms, and add them to the frying pan. Brown everything for 5 more minutes.
Once the potatoes are cooked and have cooled down a bit cut them some more, into 2-3 cm cubes. Put them in a big salad bowl. Cut the tomatoes (any way you want) and add them to the bowl. Add the browned ingredients from the frying pan to the salad bowl.
Slice the celery stick and add to the bowl. Add the tarragon leaves.
Finally add the home-made mayo and home-made vinaigrette, stir well whilst trying not to turn the potatoes into a mash.
 Options:
You can replace the mayo with some crème fraiche and horseradish sauce if you prefer.
You can also replace the mayo with a home-made aïoli mayonnaise (garlic mayo).
Don't forget, if you like this recipe please share it! We'd love it if you came back and shared your comments, thoughts, and rating on this dish once you've cooked it. Bon appétit!
I am linking this up to Recipe of the Week with A Mummy Too, Tasty Tuesdays with Honest Mum and Cook, Blog, Share with Supergolden Bakes, click on the image below to discover some other great foodie blog posts: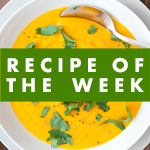 Print Friendly

Print Friendly