Magret de canard is a very popular dish in France, and it's easy to see why – it's incredibly quick and easy to make, it's not crazily unhealthy (it's up to you if you eat the fat on top or not), and if you hunt around you can get it for a good price; we opted for a whole duck which we cut up to make different dishes.
There are a variety of ways you can prepare your duck breast but one of our favourites is glazed with honey, this is also a dish that you can find on lots of restaurant menus in France. You can serve your honeyed duck breast with all sorts of accompaniments, such as potatoes – in pretty much any format, including chips – roast vegetables, fresh pasta…
I'm linking up with Recipe of the Week with this post, click on the linky below to see more yummy recipes: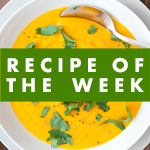 Honeyed duck breast
Prep Time:

2 minutes

Cook time:

18 minutes

Servings:

4

Rating:
Ingredients:
Instructions:
Summary:
Cook the duck breast in a frying pan skin down on a medium heat for 5 mn
Flip it over, cook it for 5 mn with a heavy lid on top
Flip it over one last time, cook it for 5 mn still with the heavy lid on
Remove the lid, add the honey, the cayenne pepper, season to taste and cook for 3 mn, stirring regularly
Put your frying pan on a medium heat. Get all your ingredients ready.
You can score the breast with a sharp knife if you want to but it's not necessary. Once your frying pan is hot put your duck breasts in it, skin down, and cook for 5 minutes. You won't need any oil as the skin will melt pretty quickly, giving you your fat. In fact you will end up with too much fat, so every now and then you can scoop some out with a tablespoon. You can either put it in a jar and keep it for frying sautéed potatoes at a later date (absolute heaven!) or just chuck it in the bin once it's cold. Don't put it down the sink as it'll ruin your plumbing system!
After 5 minutes it's time to flip the duck breasts over. To cook them faster I use a saucepan lid placed directly onto the meat with a heavy weight on top. In the picture below you can see the metal lid with the black Le Creuset one on top acting as the heavy weight.
After 5 minutes you can flip them one last time and cook them for 5 more minutes. Use the lid and the heavy weight again.
The breasts have had 15 minutes cooking by now. Remove the lid, add the honey and the cayenne pepper. Alternatively you can replace the cayenne pepper with some five-spice but it's less French now 😉 Season to taste and cook for 3 more minutes, stirring regularly. You might want to add a dash of water in case the sauce gets too thick or starts burning.
Now you just need to slice the duck breasts with a sharp knife. Pour the meat juice from the chopping board back into the pan, stir everything and pour the sauce over your duck.
Additional tips:
Try to rest the duck breasts for 5 minutes in a warm place once they're cooked. You could use some foil with a tea towel on top for example.
Don't forget, if you like this recipe please share it! We'd love it if you came back and shared your comments, thoughts, and rating on this dish once you've made it. Bon appétit!

Print Friendly

Print Friendly