Guinea fowl is a great meat that very few Brits seem to know, but it is a great alternative to chicken that is less dry and with a slightly smokier taste. We often have it as a Christmas dish as it's so delicious, and Sophie's English family love it too!
This dish can be served with rice, pasta, steamed/boiled potatoes and mash, as well as with any type of vegetables.
You can cook this guinea fowl dish with or without cream. If you cook it with cream, you can choose to add mustard too (as in the picture above) or not.
I'm linking this delicious recipe up to Tasty Tuesdays and Recipe of the Week, do click on the links below for other yummy recipes: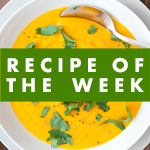 Guinea Fowl: better than chicken
Prep Time:

5 minutes

Cook time:

60 minutes

Servings:

6

Rating:
Ingredients:
Instructions:
Summary:
Brown the bacon and onions in olive oil and butter in a casserole dish
Brown the guinea fowl
Gently cook with lid on for 45 minutes
Add crème fraiche and mustard and cook 5 more minutes (optional)
Thicken the sauce with cornflour (optional)
Put your casserole dish on the hob on a high heat. Get all your ingredients ready.
Put the olive oil and the butter into the casserole dish.
Peel and slice the onions and put them in the casserole dish. Next cut your bacon. You can use streaky bacon (which is fattier) or back bacon, it's up to you, we tend to use back bacon. Chop your bacon into 2cm wide strips, either with a big, sharp kitchen knife, or with kitchen scissors. You could also use lardons - this is quicker but more expensive. Add your bacon/lardons to your casserole dish and stir everything. You might need to reduce the heat to medium if the oil starts spitting too much.
Once the onions and bacon have browned, after about 5 minutes, put them to one side in the same dish and add your guinea fowl. Brown it for about 2 minutes on each side: the bottom, the left side and the right side. A guinea fowl has a sort of a triangular shape.
Now pour 300ml of tap water into the casserole dish. Season to taste with salt and pepper (easy on the salt as the bacon is already salty), put the lid on, turn the heat down to the minimum and simmer for 45 minutes.
Once cooked, as an option, you can add the crème fraiche and the mustard. Stir this sauce and let it cook on a high heat for about 5 minutes. It will take away the heat of the mustard.
Additional tips:
I always think the sauce is too liquidy at this stage so the trick to thicken it is to use cornflour. While the crème fraiche and the mustard are still cooking you can put one heaped teaspoon of corn flour in a bowl with a plash of COLD water. Stir it and pour it into your casserole dish. I say "COLD" as otherwise you will get some nasty lumps. It seems counter-intuitive to add more liquid to something you want to thicken, but believe me, the corn flour will serve its purpose as soon as it starts heating up. Don't pour the corn flour straight into the pan without any water or you might get nasty lumps as well 😉
We hope you like our Christmas special. Don't forget, if you like this recipe please share it! We'd love it if you came back and shared your comments, thoughts, and rating on this dish once you've cooked it. Bon appétit!

Print Friendly

Print Friendly