Just because our barbecue days are over for this year it's not a reason to stop eating grilled meat, and this delicious recipe is so easy, anyone can make it, even the most basic beginner.
A few months ago we shared the boozy chocolate cheesecake recipe from a cook book called "Man up your meals", and this chilli-flavoured spare ribs recipe is another great dish from the same book.
I used fresh onions mixed into a pulp for the rub as I didn't have the onion powder that the book requires, but I think using the onion powder would work out much better.
I found that the proportions for the rub are a bit stingy for the amount of ribs and I would recommend increasing them. I had about 1.6kg of ribs and I struggled to cover them all properly. (The picture in the book shows ribs that are a lot more covered than mine.)
You can serve your chilli-flavoured spare ribs with lots of different accompaniments, we had ours with the Jumbo potato wedges from the same book, and corn on the cob, but they would also go brilliantly with our Celeriac coleslaw and my Aunt Micky's potatoes.
Chilli-flavoured spare ribs
Prep Time:

30 minutes

Cook time:

60 minutes

Servings:

4

Rating:
Ingredients:
Instructions:
Summary:
Mix the chilli, paprika, oregano and onion pulp in a big bowl
Mix the ribs well with the rub in the bowl then set aside for 15 mn to marinate
Cook the ribs on a rack over a roasting tin lined with foil (or on a grill over a big tray) for 1h - 1.5h at 160ºC
Get all your ingredients ready.
Mix the onion in a food processor or a liquidiser and put it in a big bowl. Add the chilli, paprika and oregano. Season to taste with some salt and pepper and stir well.
Mix the ribs with the rub well in the bowl using your fingers then set aside for 15 mn to marinate. Switch the oven on to 160ºC.
Line a roasting tin with foil and put a rack over it. Place the ribs on the rack. Alternatively you can place the ribs on a grill over a big tray.
Cook for between 1 hour and 1 and a half hours at 160ºC. In my case I cooked them for 1h15 but with hindsight I reckon 1 hour would have been enough.
Don't forget, if you like this recipe please share it! We'd love it if you came back and shared your comments, thoughts, and rating on this dish once you've made it. Bon appétit!
I'm linking this blog post up to Recipe of the week with A Mummy Too, click on the image below to discover some other great recipes: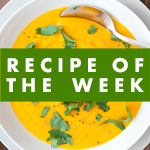 Print Friendly

Print Friendly