You can't beat a good chilli con carne as the weather turns cooler……that is unless it's a chilli con carne done in the slow cooker! This recipe is incredibly easy to make, is cheap and only takes 15 minutes to prepare – put it on in the morning, head off to work and have dinner ready for when you come home, result!
Everyone has their preferences for their chilli con carne accompaniment, our favourites are rice or jacket potato, but it also goes brilliantly with couscous, quinoa, bulgur, crusty bread or any other carbs or grains.
Chili con carne (slow cooker)
Prep Time:

15 minutes

Cook time:

06h 00min

Servings:

8

Rating:
Ingredients:
Instructions:
Summary:
Put all the ingredients in the slow cooker, finishing with the spices
Stir everything really well
Cook on low for 6 hours
Get your slow cooker ready. Get all your ingredients ready.
Start by putting the mince beef in your slow cooker. Separate it quickly with your fingers so you don't end up with big chunks. Slice the onions and add them.
Add the sliced peppers, chopped tomatoes, red kidney beans, tomato purée, crushed garlic, ground coriander, ground paprika and ground cumin. Season to taste with some salt and pepper. Cut the butter in half and add it.
Stir everything really well.
Put the lid on and cook on low for 6 hours. (You can cook for longer if need be but you may want to add more liquid.)
Optional:
If you prefer the peppers on the firm side then don't put them in right from the start, only add them after 4 hours.
Don't forget, if you like this recipe please share it! We'd love it if you came back and shared your comments, thoughts, and rating on this dish once you've cooked it. Bon appétit!
I'm linking this up with Recipe of the Week over at A Mummy Too, click on the image below to find some other delicious recipe ideas: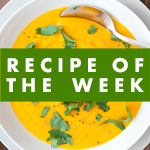 Print Friendly

Print Friendly