This recipe is one for the beginners who are looking for a healthy dish, that's not only nice and easy, but that tastes good too. Chicken strips with sage is a great spring and summer dish because it's lovely and light, and the sage at this time of year will be at its tastiest.
This is a great, versatile dish which can be accompanied by more or less anything. We served it with rice and courgettes gratinées (recipe coming soon). But you could also serve it with our ratatouille and/or gratin dauphinois.
Chicken strips with sage
Prep Time:

10 minutes

Cook time:

16 minutes

Servings:

6

Rating:
Ingredients:
Instructions:
Summary:
Fry the garlic and the sage in the frying pan with the olive oil for 2-3 mn
Slice the chicken into 1cm wide strips
Add the chicken to the pan, season to taste and cook on high heat for 10 mn stirring frequently
Pour the white wine and the lemon juice over everything and cook on high heat for about 2-3 mn
Put a frying pan on a medium heat. Get all your ingredients ready.
Pour the olive oil into the frying pan. Add the sage leaves and crushed garlic cloves. Fry everything on a medium heat for 2 to 3 minutes until the garlic is golden. Make sure you don't burn the garlic or it will have a bitter taste.
While the sage and garlic are frying gently, slice the chicken fillets into 1cm wide strips. Add the chicken strips to the pan, season to taste with salt and black pepper. Cook on high heat for 10 mn, stirring frequently. If your pan is not big enough you might need to do this in two steps. If you put too much in the pan in one go you will struggle to brown everything properly. The amount I've got in the picture below is borderline too much.
Pour the white wine and the lemon juice over the top of the chicken. Cook for about 2-3 more minutes stirring frequently.
Optional:
You can replace the chicken breast with turkey fillets
You can also add some cream (crème fraîche or double cream) at the end of the cooking time, and cook it for 1 or 2 more minutes, stirring regularly
Don't forget, if you like this recipe please share it! We'd love it if you came back and shared your comments, thoughts, and rating on this dish once you've made it. Bon appétit!
I'm linking this dish up to Recipe of the week with A Mummy Too, click on the image below for some other great recipes: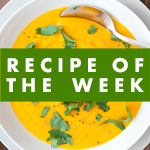 Print Friendly

Print Friendly