Coq au vin has got to be one of the most well-known French recipes, and for good reason as it's delicious. But if you live in the UK, like we do, trying to get hold of cockerel to make it is fairly difficult! So we've tweaked the traditional recipe to make it UK-friendly by swapping chicken for the usual cockerel. There are various other birds that you could use, such as guinea fowl or partridge.
We served roast vegetables as our accompaniment, but you can serve it with rice, fresh pasta, steamed potatoes or steamed mixed veg, depending on your preferences.
I am linking this dish up to Recipe of the Week, click on the linky below to discover some other yummy recipes: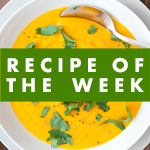 Cheeky chicken coq au vin
Prep Time:

6 minutes

Cook time:

01h 15min

Servings:

6

Rating:
Ingredients:
Instructions:
Summary:
Brown the bacon and onions in the olive oil and butter in a casserole dish
Brown the chicken
Add the flour, garlic, herbes de Provence, dried mushrooms and red wine
Gently cook with lid on for 1 hour
Cut your chicken and put back in the gravy
Put your casserole dish on the hob onto a high heat. Get all your ingredients ready.
Put the olive oil and butter into the casserole dish.
Peel and slice the onion and put it in the casserole dish. Next cut your bacon. You can use streaky bacon (which is fattier) or back bacon, it's up to you, we tend to use back bacon. Chop your bacon into 2cm wide strips, either with a big, sharp kitchen knife, or with kitchen scissors. You could also use lardons - this is quicker but more expensive. Add your bacon/lardons to your casserole dish and stir everything. You might need to reduce the heat to medium if the oil starts spitting too much.
Once the onions and bacon have browned, after about 5 minutes, put them to one side in the same dish and add your cheat coq (chicken). Brown it for about 2 minutes on each side: the bottom, the left side and the right side. A chicken has a sort of a triangular shape.
Add the flour, the crushed garlic, the herbes de Provence, the dried mushrooms and the red wine and stir well. You can use fresh mushrooms as well or dried porcini for example. No need to rehydrate the dried mushrooms with boiled water as they will have plenty of time to rehydrate while cooking in the red wine.
Gently cook on a low heat with the lid on for 1 hour.
This is the gravy at the end of the 1 hour cooking.
Cut your chicken and put it back in the gravy so it soaks up all the flavours before you dish it up.
Don't forget, if you like this recipe please share it! We'd love it if you came back and shared your comments, thoughts, and rating on this dish once you've cooked it. Bon appétit!

Print Friendly

Print Friendly