It's a funny time of year. Summer fruit and veg are more or less over and done with, but the weather is still mild enough to warrant eating salads. Which means it's the perfect time of year for Celeriac coleslaw.
First of all, what is celeriac?
Celeriac is a root vegetable that is at its best from September to April in the UK, its taste can be described as a subtle celery flavour with a hint of nuttiness. It's an incredibly cheap vegetable and is grown in the UK, so is good for your purse and the environment. This Celeriac coleslaw also happens to be very easy and quick to make, so there's really nothing to hold you back.
There are various different ways to cook and prepare celeriac, the most common French one being the Céleri Rémoulade. This Celeriac coleslaw is a take on that classic French dish.
You will need our Aïoli (garlic mayonnaise) recipe to make your Celeriac coleslaw. But to make it even easier for yourself, go to the top left hand side of this page, pop your name and email address in the box there and you'll have instant access to several video how-tos – including how to make your own homemade mayo – along with a seasonality table for free, just because we love our blog readers and want to share the food love 🙂
Celeriac coleslaw
Prep Time:

15 minutes

Cook time:

4 minutes

Servings:

6

Rating:
Ingredients:
Instructions:
Summary:
Prepare a strong aïoli mayonnaise (garlic mayo)
Cut the root off the celeriac, peel it and blanche (boil) it for 4 mn
Grate the carrots and the celeriac and add to the mayo
Add the lemon juice and stir well
Sprinkle some tarragon leaves on top
Switch your kettle on. Get all your vegetables and the food processor ready (thin grater attachment).
Prepare a strong aïoli mayonnaise (garlic mayo) in a big salad bowl. Or even easier, watch the technique video to make your own mayo, instantly accessible after subscribing to Franglaise Cooking 😉 You can make your mayo stronger by adding a bit more mustard, vinegar and garlic.
With a big strong knife remove the root from the celeriac at the bottom as it's not great to eat and full of earth. Peel the celeriac with a peeler or with the knife for a quicker process. Cut it into about 10-12 pieces.
Pour the boiling water from the kettle into a deep saucepan and add the celeriac to blanche it for 4 minutes, all this means is that it will cook just a little in order to be softer and not have too strong a taste.
While the celeriac is blanching wash the carrots well (as you're not peeling them), grate them in the food processor (or manually if you don't have one) and tip them into a big salad bowl with the aïoli (garlic mayonnaise). When the celeriac is blanched sieve the water with a colander. Put the celeriac back in the saucepan, pour some cold water over the top to speed up the cooling process. After a minute or two sieve it again and grate it in the food processor (or by hand) then add it to the salad bowl.
Squeeze the juice of the lemon over everything and stir well either with your fingers or with big serving spoons.
Sprinkle some tarragon leaves on top.
Options:
Use a mayonnaise with shallots instead of the garlic mayo (aka Aïoli).
Replace the tarragon with parsley or coriander leaves.
Additional tips:
Don't overcook the celeriac or it will become too squidgy to grate properly.
The coleslaw will taste better if it rests for a couple of hours in the fridge with some cling film or foil over it.
Don't forget, if you like this recipe please share it! We'd love it if you came back and shared your comments, thoughts, and rating on this dish once you've made it. Bon appétit!
I'm linking this recipe up to A Mummy Too's Recipe of the week and Honest Mum's Tasty Tuesdays, click on the images below to discover some other great foodie blog posts: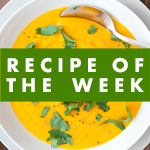 Print Friendly

Print Friendly