When I was writing up this recipe earlier on in the week I was really hoping that we would have picnic/barbecue weather for our bank holiday weekend, but I should know after nearly 4 years of living in the UK that good bank holiday weekend weather are not words that go together. Despite that here is a lovely summery recipe all the same…
Caviar d'aubergines is a great dish to serve up as an aperitif if you've got guests, or alternatively as part of a light bite meal, or even as a starter. It's really versatile, incredibly cheap to make, healthy, very easy to rustle up and tastes AMAZING! What more could you possibly want?!?
This is a well-known Provençal dish (from the southeastern part of France), which I can highly recommend for spring and summer. We often include this for summer picnics or as a side dish when having a barbecue.
We tend to toast some homemade bread to eat with it, and I can seriously recommend Mel's Easy Crusty Bread that Sophie discovered just this week, you can also serve it with Ciabatta bread or bread sticks. In fact you can eat it more or less the same way you would houmous, but it's not quite as heavy. Just brace yourself though, as it's really addictive….
Caviar d'aubergines
Prep Time:

10 minutes

Cook time:

30 minutes

Servings:

6

Rating:
Ingredients:
Instructions:
Summary:
Roast the whole aubergines in the oven at 210ºC for 30mn
Cut them in half, remove the pulp and put it in the food processor
Add the lemon juice, olive oil, garlic, season to taste and mix well
Serve in a bowl with some toast/Ciabatta/bread sticks etc
Get your food processor ready with the blade on. Put the oven on at full whack. Get all your ingredients ready.
Wash the aubergines, put them in a roasting tray or on a baking sheet, with the skin still on, just as they are. Put them in the oven and cook them on 210ºC for about 30 minutes, depending on the thickness of your aubergines. They are ready when you can easily put a sharp knife through them.
On a chopping board cut the stalk off and cut them in half. With a tablespoon or a big knife (I prefer a big knife), remove the pulp and put it in the food processor. Wait for a minute or two to do this if they are still too hot. You don't want any of the skin as it will be a bit plastic after being cooked this way.
Squeeze the juice of the lemon onto the pulp in the food processor. Add the olive oil. Crush the garlic cloves with a garlic crusher and add to the mix. Season to taste. I would recommend adding quite a lot of salt to strengthen the flavours and cancel the acidity from the lemon. Mix well. (You can do this by hand in a large bowl if you don't have a food processor.)
Spoon everything out with a spatula into a nice serving bowl, add your toast/Ciabatta/bread sticks and serve it warm. Alternatively you can keep it in the fridge and serve it cold. Generally it is nicer, and more refreshing when it is cold.
Don't forget, if you like this dish please share it! We'd also love it if you came back and shared your comments, thoughts, and rating on this dish if you make it. Bon appétit!
I'm linking up to A Mummy Too and her Recipe of the week, click on the linky below to find some other delicious recipes: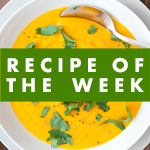 Print Friendly

Print Friendly